Welcome to the evolution of kids teaching kids®! Beginning this fall, the recipe book will now be featured across Texas. The program continues to make great strides each year in getting kids to eat fruits and vegetables and try new fruits and vegetables.
2021-22 Design Entries
Winner: Mark Chrissan, Prosper High School
1st Runner-up: Aiden Savetman, Allen High School
2nd Runner-up: Raiyah Boyer, Keller Center for Advanced Learning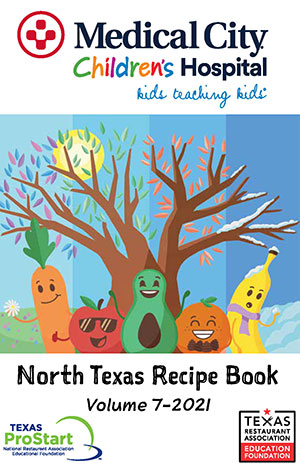 2020-21 Recipe Book
Snacking is a big part of a kid's daily food intake, about 27 percent. High-calorie snacks with little nutritional value are consumed daily by our children, which can result in them being overweight and at risk for diabetes. Childhood obesity has tripled over the past 30 years, causing an alarming increase in preventable diseases and health risks to children. The book aims for kids and parents to work together to teach our children how to make healthy food choices one snack at a time.