North Texas Recipe Book Volume 4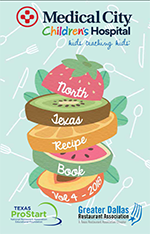 Welcome to the third edition of the kids teaching kidssm North Texas recipe book! The program continues to make great strides each year in getting kids to eat fruits / vegetables and try new fruits / vegetables. This year's edition is a collection of top snacks from Texas ProStart culinary students in 14 North Texas school districts.
Snacking is a big part of a kid's daily food intake, about 27%. High calorie snacks with little nutritional value are consumed daily by our children, which can result in overweight and diabetes. Childhood obesity has tripled over the past 30 years causing an alarming increase in preventable diseases and health risks to children. The book aims for kids and parents to work together to teach our children how to make healthy food choices one snack at a time.
We encourage you and your family to enjoy these fun to make, fun to eat recipes together.